by Dr. Eric Winder  (as published in the July 2017 issue of Natural Awakenings, Sarasota/Manatee/Charlotte edition)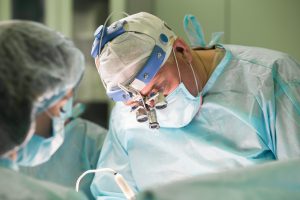 Scar tissue from surgeries and injuries can be a surprising source of pain. While some scars heal without issue, others develop restrictions that affect the connective tissue called fascia, resulting in pain nearby or referring pain to other parts of the body.
An example of this can be observed in a patient I'll call Joan. She came to my office looking forhelp with sciatica that caused pain from her right buttock down to her knee, and she also experienced left knee pain that hurt whenever she climbed stairs.  Examination did not show any large areas of restriction in her fascia, but I noticed that her intake forms mentioned a C-section surgery seven years prior.
I asked if she felt any pain at the bottom of the abdomen where the scar was, but she responded that she did not.  However, when I lightly stretched the edge of the surgical scar on the right side of her abdomen, there was a sudden improvement in muscle tension and tenderness in her right hamstring and gluteal muscles.
 Sciatica Relieved
Gentle scar tissue therapy, using light hand pressure, softened the restriction in the scar and greatly reduced her sciatica pain in just one session. Her left knee pain seemed unrelated.Additional examination revealed a strip of firm restriction in the left calf muscle that was tender. As soon as I pressed on this area, she exclaimed, "Oh––I pulled that calf muscle while playing tennis!" The restriction was a muscle scar from the calf strain, affecting her stability in the left knee.  Fascia release therapy to her calf muscle offered immediate improvement in the knee pain and eventually resolved with further treatment. Her sciatica also disappeared.
Pain from scar tissue is often missed because the scar itself might not hurt. Scars can cause pain by distorting the sheet-like connective tissue called fascia. This, in turn, causes muscle imbalanceand joint instability which results in pain in nearby muscles and joints.  Below is a chart of some common patterns of pain caused by scars.

A Lot of Nerve!
Again, scars probably cause this type of pain due to their effect on the fibrous tissue called fascia. This tissue holds millions of nerve ending throughout the body including nerves that give the body position sense. If this feedback is distorted or altered, pain can result. Fortunately, restricted scar tissue can be treated with several hands-on methods. In more resistant cases, low level laser therapy or micro-current therapy can help complete the scar tissue release. Once scar restriction has been treated, the scar tends to remain soft, pliable and pain-free.
We will present a program on scar tissue pain and treatment at GentleBay ChiropracticJuly 26. I will discuss case examples, provide a treatment demonstration and hold a Q&A session following the presentation. Attendees are invited to arrive at 6:45 p.m. for refreshments, and the program itself will take place from 7–8 p.m.
This event is located at 3131 S Tamiami Trail, #102, Sarasota. To register, call 941-957-8390.